>
NEW in box ddrum D120 Series Blood Red Wrap Complete Kit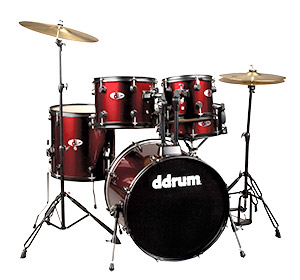 NEW in box ddrum D120 Series Blood Red Wrap Complete Kit
SKU:
$360.00
$304.99
$304.99
Unavailable
Items sold to CT residents will be charged CT Sales Tax of 6.35%
Items sold to out of state residents no CT Sales Tax

FREE SHIPPING
FREE Local Pick-up

Includes: 16x20 8ply Basswood Kick Drum w/Tom Arms 7x10 and 8x12 6ply Basswood Rack Toms (w/mounts) 14x14 Floor Tom (w/Legs) 5.5x14 8ply Basswood Snare Drum. 16inch Crash/Ride cymbal & 14inch Hi-hats (pr). Offers power and tone packed into a compact format with a slightly downscaled kick drum and toms. In addition to drums the d120B kit includes a straight cymbal stand hi-hat stand kick pedal snare stand and even a throne.

For those not quite ready to step up to our popular d2 drum kit, ddrum® offers the d120B. The d120B features the same Player configuration as the d2, only with smaller bass drum and toms. In addition to drums, the d120B kit includes, cymbal stand, hi hat stand, bass drum pedal, snare stand and a throne - just add sticks, and the d120B is ready to play!