>
NEW ddrum Journeyman Gen 2 Rambler 5pc with stands. Black Sparkle Wrap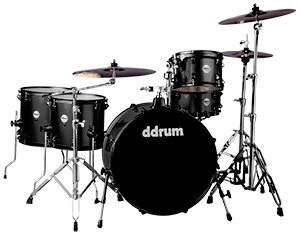 NEW ddrum Journeyman Gen 2 Rambler 5pc with stands. Black Sparkle Wrap
SKU:
$529.00
$504.99
$504.99
Unavailable
Items sold to CT residents will be charged CT Sales Tax of 6.35%
Items sold to out of state residents no CT Sales Tax

FREE SHIPPING
FREE Local Pick-up

includes: 16x24 8ply Basswood/Birch bass drum - 8x12 tom w/Tom Arm - 14x14 & 16x16 Floor tom w/Legs (all toms are 6ply Basswood/Birch)- 7x13 8 ply Basswood/Birch snare.

All drums have 1.66MM Triple Flanged hoops. Double Braced Snare Stand, Double Braced Boom Stand, Double Braced Cymbal Stand, Double Braced Hi Hat Stand, RX Single Bass Drum Pedal, Bass drum tom mount. Low-slung goodness for all manner of beats. Journeyman's benefits are especially streetwise in our Rambler configuration. The boom of this bass drum, the smack of this snare, and the ride-able glory of three powerful toms ensure you'll never feel under-powered. All of our colors are street legal and we've got all of you covered... whether you want you and your kit to cruise in relative stealth or if you want to make sure you're loud and clear in the visual mix.